Make adorable fabric pumpkins in just about 5 minutes, they're perfect farmhouse fall decor and are so fun you'll want to make a whole pumpkin patch full!
Once you start making 5-minute fabric pumpkins, you're not going to want to stop. Seriously, the most labor intensive part of this project was gathering that materials. Or actually, maybe it was stepping out my back door and finding the sticks.
(If you have kids, you should definitely outsource that task because if there's one universal truth about all children, it's that they LOVE sticks.)
I made my cute fabric pumpkins out of some soft natural muslin and a scrap of gray polka dot fabric that I had in my stash. I was going for a farmhouse pumpkin vibe. I was kind of wishing I had a nice neutral stripe to add to the patch, but I didn't this time.
But you can absolutely use whatever fabric you like! Just keep in mind, thicker fabric might be a bit harder to get the yarn needle through. But boy, wouldn't these fabric pumpkins be gorgeous in a soft velvet? Or maybe burlap?
I'm totally making some of those next. Don't be surprised if you come over and there are fabric pumpkins on every single surface of my home…
And if you're shopping in a fabric store, these little fabric pumpkins would be a PERFECT fat quarter project. I always love finding uses for fat quarters (since I'm not a quilter) because they're usually a great deal and you can get just a little bit of a super cute fabric for barely anything and then not have a lot of weirdly shaped scraps leftover.
But honestly, these really are THAT fast and easy to make. They'd make a great craft night project with friends too! You could assembly line them or each make your own. Doesn't that sound fun?!
Here's how to do it…
Yield: 1 fabric pumpkin
5-Minute Fabric Pumpkins
Make adorable fabric pumpkins in just about 5 minutes, they're perfect farmhouse fall decor and are so fun you'll want to make a whole pumpkin patch full!
Instructions
First, collect some short sticks to use as pumpkin stems. I found the perfect size in the wood chips under our backyard playset.
Cut a rough circle from your fabric, size is not important, my largest pumpkin started out as a circle about 12 inches in diameter.
Thread your sewing needle with thread that matches your fabric, put a knot at the end, and stitch a long basting stitch around the entire edge of the circle about 1/4 inch from the edge of the fabric.
Pull the basting thread slightly to start to gather the fabric
Stuff your fabric pumpkin with fiber fill stuffing
Pull the basting string tight and secure with a knot to close your fabric pumpkin
Thread about 24 inches of twine onto your yarn needle
Insert the needle through the base and out through the top center of your pumpkin, pull to tighten and shape your pumpkin sections
Repeat around the pumpkin adding about 5 sections and tightening the twine each time to shape the fabric pumpkin
Insert the yarn one last time through the top and back out through the bottom. Then tie the two ends in a knot and trim
Use your hot glue gun to glue a stick to the top as a pumpkin stem
Notes
You can stuff your pumpkin loosely for squishy fabric pumpkins like I've made, or you can add more stuffing for firmer pumpkins
Use any fabric you have on hand, your fabric pumpkins can be any color you want!
After you have sewn all of the twine sections, you can gently pull the fabric under the twine to shape the fabric a bit if it's gathering strangely in any spots
If you liked liked this, you may also like some of my other posts…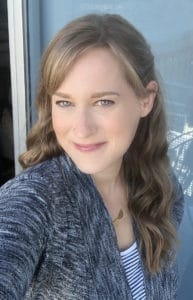 Welcome to Little Red Window! I'm Cassie and I'm a former architect with degrees in architecture, preservation, art and art history who's never met a craft or knitting project I didn't like!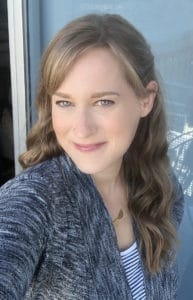 Latest posts by Cassie May (see all)