This beautifully simple double brim hat knitting pattern is extra super warm and cozy and includes a warm double thickness brim in a contrasting color to you keep your little one warm and toasty!
Who's ready for the 8th pattern in my Back to Basics knitting pattern series? I'm in love with my new super warm and cozy Double Brim Hat knitting pattern because it's a beautiful simple pattern with a secret.
It's got a double thickness brim with a fun pop of color inside!
You guys had better appreciate this pic because I'm not going to lie, it was NOT easy to get Baby V to hold it up enough to see that fun green inside! Ha! She was confused like, "Mom, usually you tell me NOT to try and take the hats off!"
It may look complicated but this pattern is actually super easy, seamless and simple to knit up, it's an elegant pattern, if I do say so myself. And it even looks nice and neat on the inside which is not always how it goes with hats, right?
I loved this pattern so much that I even am attempting to knit one up for my big kid because, at 8 years old, he just loves playing in the snow sooo much but he comes inside just so darn cold! The Double Brim Hat knitting pattern is the solution!
Looking for the pattern? Here's how it works: 
This pattern is available for free in one size right here on my site (keep scrolling down). Or you can purchase an upgraded PDF pattern that is ad-free and easy to print in just one or two nicely formatted pages.
The PDF printable also contains instructions for additional sizes including 0-3 months, 6 months, 12 months and 2T+!
You can purchase the PDF patterns either via
Etsy
or
Ravelry
. There is a very small fee for the PDF version and this helps me keep Little Red Window running! Thank you so much for loving my patterns!
-The PDF is an optional upgrade, keep scrolling down for the free version-
Or download the PDF pattern from Ravelry here:
buy now
---

Double Brim Hat Knitting Pattern
(12 mo. size, see PDF for other sizes)
This pattern is copyright Little Red Window Design 2017 and is intended for personal use. You may not not distribute, reproduce or sell this pattern either physically or digitally.
Gauge: 20 st. = 4 inches
Double Brim Hat Supply List:
(If you need help, my favorite knitting reference book for everyone from beginners to advanced knitters is THIS ONE!)
Using long-tail cast on, cast on 72 stitches onto your circular needles with green yarn. Join to knit in the round and knit all stitches for 14 rounds. Then switch to blue yarn and knit all stitches for 15 more rounds.
Because this is stockinette, the cast on edge will roll up as you knit, if you choose, you can block the hat at this point. If not, just unroll as you work on the next steps. To make the double brim, first, make sure you weave in the ends from the color changes.
Then, fold the cast on edge up INSIDE the hat so the wrong (purl) sides are touching.
Line up the cast on edge with the live stitches on the needles. To attach the double brim layers, pick up one stitch from the cast on edge and put it on the left needle.
Then, knit that stitch (k2tog) along with the next live stitch on the left needle.
Continue on around the hat, picking up one cast on stitch at a time and knitting it together with one live stitch until you have reached the end of the round.
Continue knitting all rounds until the hat is about 5 inches long.
Decrease (divide your stitches evenly between 3 double pointed needles or use magic loop):
Round 1: (k6, k2tog) repeat to the end of the round
Round 2: knit all stitches
Round 3: (k5, k2tog) repeat to the end of the round
Round 4: knit all stitches
Round 5: (k4, k2tog) repeat to the end of the round
Round 6: knit all stitches
Round 7: (k3, k2tog) repeat to the end of the round
Round 8: knit all stitches
Round 9: (k2, k2tog) repeat to the end of the round
Round 10: knit all stitches
Round 11: (k1, k2tog) repeat to the end of the round
Round 12: k2tog and repeat to the end of the round
Cut yarn, thread through loops and pull to close. Weave in ends.
If you liked this, you may also like some of my other posts…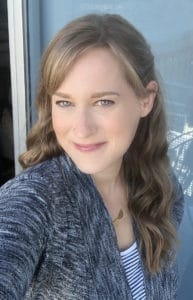 Welcome to Little Red Window! I'm Cassie and I'm a former architect with degrees in architecture, preservation, art and art history who's never met a craft or knitting project I didn't like!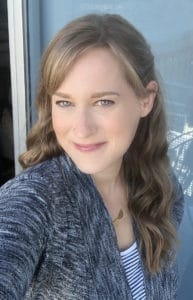 Latest posts by Cassie May (see all)