Recently a good friend of mine/my downstairs neighbor had a baby. He's pretty much the cutest baby ever. And when my baby O was born we only had one friend bring us anything to eat. Since our parents don't live super close, we were kind of on our own. I would have killed for someone else to cook for us. So I decided to make her a couple meals worth of food instead of just my standard new baby pan of lasagna. And honestly, I was excited because she and her husband are vegan and I don't often get to cook for other people who love veggies as much as I do. So I Pinterested for a while until I came across this southwestern quinoa salad with avocado and black beans from Cooking Quinoa. Here's my version:
Try not to drool on your computer.
It turned out to be my new favorite recipe, one of those ones I know I will keep making over and over and I think it will be my go-to for potlucks and picnics. I've made it three times since then and even my husband, a notorious leftover hater, has been taking it to work for lunch. I only made a couple changes, I added cucumber for crunch, I used lemon juice instead of lime because that's what I had, and I left out the pine nuts because my son is allergic to tree nuts. I brought it to her with a ripe avocado and instructions to add the avocado right before eating and she said even her toddler loved it.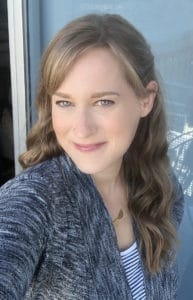 Latest posts by Cassie May (see all)