These adorable keepsake snowman fingerprint ornaments are fun and easy to make with your kids' help and they make a great Christmas gift!
You guys, I think I might be losing my mind. We were decorating our Christmas tree last weekend and I pulled out this adorable keepsake snowman fingerprint ornament and realized I never shared it with you!
I make a keepsake christmas ornament every year for family members and I always have the same dilemma, I don't really want to share them here before I've gifted them because it will spoil the surprise.
But I distinctly remember photographing this one so that I could share it later…. I mean, of course I did that…right?!
Fast forward 11 months…I cannot find a single photo. And I keep my photos pretty well organized!
What happened? Did I file them away somewhere weird? Did I take them and then name the folder something that doesn't make sense to future me? I tried looking under keepsake ornament, snowman ornament, photo ornament…not there! OR maybe I never photographed them at all??
And if that's the case, what in the world was I thinking? Should I have my blogging license revoked? (If you haven't caught on by now, I might possibly be slightly type A and driven to insanity by losing things. Just possibly…)
So you'll have to bear with me today. I still want to share these cute DIY snowman fingerprint ornaments but I have no pics of the process. Luckily these keepsake snowman fingerprint ornaments are soooo easy to make you don't really NEED pictures.
I've detailed the steps below. If you make your own keepsake snowman fingerprint ornaments, I'd love to see them! Tag me on instagram!
Ready? Here's how I made them…
Keepsake Snowman Fingerprint Ornaments
Make these adorable keepsake snowman fingerprint ornaments with a little help from your kids!
Instructions
First, paint your entire ornament gold
Then pour some paint on a disposable paper plate (or similar) and have your child press their thumb in the paint
Carefully press the child's thumbrint on the bottom center of the ornament in three spots to make the snowman's body
Wash hands!
Repeat with any other children
Use your tiny paintbrush to add details to your snowmen including little tophats, tiny carrot noses, a scarf, and coal for the eyes and buttons
Use the snowflake punch to punch some snowflake shapes from plain white paper and glue them to the ornament above the snowmen
Add additional snowflake dots with white paint and your tiny paintbrush
Write the year (and children's names if you want) in the sky with either the paintbrush or a paint pen if you find that easier
Wait for this side of your ornament to thoroughly dry
Flip the ornament over, apply glue all over the other side and place the ornament, glue side down, on the BACK of your printed photo, being sure to center your kids
Place a book on top to make sure the photo stays flat while drying
When the glue is dried, use a craft knife to trim away the excess photo from the edges of the ornament
If you liked this, you may also like some of my other posts…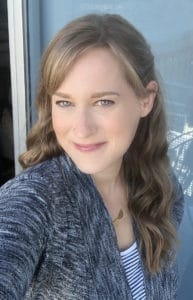 Welcome to Little Red Window! I'm Cassie and I'm a former architect with degrees in architecture, preservation, art and art history who's never met a craft or knitting project I didn't like!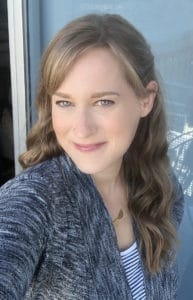 Latest posts by Cassie May (see all)