Make a distressed folding picture frame to display your favorite snapshots!
Do you have a favorite area of the craft store? Mine is definitely, by far, the unfinished wood section. Especially since they added all the adorable laser cut items. I tend to stand in that aisle and get a little dazzled by all the choices, especially the fancy laser cut picture frames. But then I never buy them because I'm not really sure what to do with them. I mean, besides stick a picture behind them. But then what? Do you stick it to the wall? Glue it to some other surface? I didn't know! And then I had a brainstorm to combine three of these adorable frames and make my own folding picture frame! And you guys, it worked out so much better than I even hoped. Sometimes I get these crazy ideas and the execution leaves something to be desired. Or I end up having to do it over more than once to get it to work. But this was easy, simple and the end result is sooo cute! Wouldn't these make amazing gifts? You could give one to aunts and uncles or grandparents! I might have to do a few assembly line for next Christmas! Anyway, here's how I made it!
DIY Folding Picture Frame
3 rectangular laser cut wood frames (these would work if you cut the string off, or this one or this one)
Fat quarter of solid color fabric, home decor weight is best (I used a light weight canvas)
Acrylic craft paint in charcoal
Chalk paint in light gray
1. First I laid out my frames and gave them a coat of charcoal acrylic paint. Mine was a little bit metallic but it doesn't have to be.
2. I had seen some pins on pinterest about getting a distressed finish with petroleum jelly and wanted to try it. Go ahead, google it. I know, it sounds super weird. I didn't follow anyone's tutorial just wiped some vaseline along the edges and corners with a tissue and then painted right on top with my chalk paint. Then I wiped off the excess while the paint was still a little damp. The paint doesn't stick to the parts with vaseline on them. That seemed to work for me!
3. Next I chose my pictures and cut them to fit in the frames. I glued them to the back with a few dots of craft glue.
4. For the next step, you need your fabric to have at least one straight even edge. Then you'll line your frames up along that at the bottom so that they will sit evenly. Spread glue on the back of the frames and carefully press them down onto the fabric. Leave about 1/4″ between each frame to allow for folding.
5. Let the glue dry completely. Then use your knife and a brand new sharp blade and use the edges of the frames as guides to cut away the extra fabric. Make sure to leave the fabric between the frames, of course.
And that's it! You have folding frames that you can reconfigure in tons of different ways!
You can even fold it flat and take it with you! How cool is that?!
If you liked this, you may also like some of my other posts...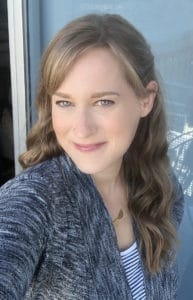 Latest posts by Cassie May
(see all)