Make a gorgeous 3D Flower Wall Hanging with simple materials! |  littleredwindow.com
A couple months ago, Aa and were on rare couple date to the movies and we were a little early so we wandered into a chain home decorating store next to the movie theater. Most of the store was kind of fancy for a family with a small child but there were a few things that caught my eye, one of which was a really cool 3D flower wall hanging. I apologize in advance for this terrible and tiny phone pic. 
They had them in a bunch of different colors and flower shapes but I fell in love with the metallic one. I did not, however, fall in love with the price tag.  So armed with my iphone pic I wandered through the craft store and bought a few things to make my own!
DIY 3D Flower Wall Hanging 
1 package of air dry clay
1 basswood canvas (in the fine art painting section)
Acrylic Craft Paint
1. First I rolled out a small ball of the clay with a rolling pin.
2. Then using the back of the blade, I cut a petal-ish sort of shape.
3. Then I pinched together the wide end of the petal to give it some shape. I did this on top of the basswood canvas just so I knew how big to make it, but the clay did not stick to the wood. I had to glue it down later, just so you know.
4. When I made enough petals to finish the bottom layer, I cut out a new set of petals a little smaller and attached them on top for the next layer.
5. Repeat with more layers, each with progressively smaller petals until your flower looks full.
6. Then let it dry for as long as you can. I would suggest at least 24 hours. Mine actually dried for about two weeks because we moved to our new house mid-project!  If you can, lift it up onto something small, I set mine on 4 wooden spools, so air can circulate underneath and it will dry faster.
7. Smooth any rough areas or edges with an emory board or sandpaper.
8. Paint with acrylic craft paint. I used Martha Stewart metallic in Champagne.
9. I also gave a coat of the same color paint to the basswood canvas and then glued the flower to the wood using some construction glue intended for gluing odd things together. It was the same glue I used in to attach my DIY Mirrored Bathroom Cabinet Frame. Allow this to dry for as long as the glue recommends. In my case, that was overnight. And here's the finished product:
If you liked this, you may also like some of my other posts…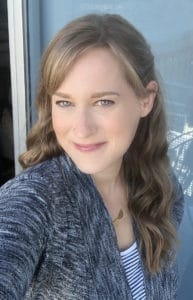 Welcome to Little Red Window! I'm Cassie and I'm a former architect with degrees in architecture, preservation, art and art history who's never met a craft or knitting project I didn't like!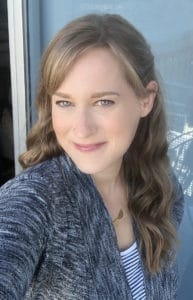 Latest posts by Cassie May (see all)