Turn a boring lamp into a gorgeous distressed chalk painted farmhouse lamp!
So a while back we rearranged our entire basement and it looks soooo much better. It had a hand-me-down college student/frat house vibe going on but now it sorta kinda looks like an actual room. Finding a home for Aa's 9,000 speakers and records (only a light exaggeration) really helped. But we still needed at least one more lamp. Honestly, we probably really need two. But one was a good start since when we have guests it turns form man cave into guest suite. So I grabbed this wood lamp base for $11 from walmart. $11 you guys?! That's not a store I frequent very often, but apparently I didn't know what I was missing out on. It was kind of whitish before and to be honest, it actually looks kind of nice in the before pics I took of it. But in reality it had a weird yellowish hue and an ugly faux brushstroke finish that just isn't coming through on the photos. So a makeover was in order. And the sad thing is that I liked how it turned out so much that I totally said to Aa, "Look honey, I got you a new lamp for the basement!" And he was excited. And then I stole it for the living room and the basement is still lamp-less (don't worry they have perfectly acceptable track lighting). Anyway, it was much easier than I thought it would be, here's how I did it.
How to Chalk Paint a Farmhouse Lamp
Technically most chalk paint tells you that you don't need to sand before you apply it. But I'm of the mind that it can't hurt. Especially if your surface has any sheen or gloss to it. I think it helps the paint stick even better. You don't have to sand off all the existing finish, just rough it up a bit with a medium/fine grit sandpaper. But it's optional. Anyway, after sanding (or not) use some painters tape to block off the part of the lamp that holds the light bulb and the cord so you don't get paint on them. If you have a steady hand you may not need to do this. Then apply at least two thin even coats of chalk paint to lamp base. 2. When the paint is dry use a piece of medium/rough grit sandpaper to lightly distress the lamp on any high points, on edges, corners etc. Here's a quick tip, if you can't manage to do this outside, I'll do this kind of thing over my kitchen sink, it makes cleanup super quick!
3. Apply a coat or two of chalk paint wax either with a brush or a cloth, and then buff it when it's dry! This pic shows the nice satin finish the wax gives your project.And that's it! Enjoy your pretty new farmhouse lamp!If you liked this, you may also like some of my other posts…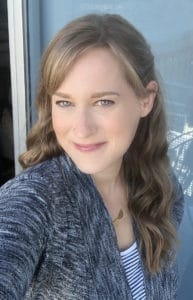 Welcome to Little Red Window! I'm Cassie and I'm a former architect with degrees in architecture, preservation, art and art history who's never met a craft or knitting project I didn't like!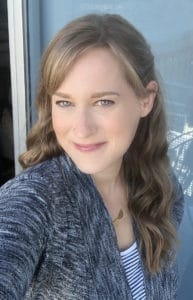 Latest posts by Cassie May (see all)