Make an incredibly quick and easy buttoned DIY Pillow Cover in about 10 minutes!
Well, did you figure out what I made these pillow from yet?? Because I loooove pillows with buttons on the back but I totally hate making buttonholes. They stress me out and I'm worried I'll screw them up and irreversibly damage my sewing project. So when I thought of this, I was pretty darn proud of myself…  Need a hint? It's something almost all homes have one or more of.  And you probably use it every single day.  Got it yet??
That's right, it's a shower curtain! I totally loved this shower curtain when I snagged it at Marshalls about three years ago. In fact, I still love it. But I noticed the other day that it has a big bleach mark right in the middle of it. NO idea how that happened since I rarely use bleach… But at any rate, it wasn't really bad, but once I saw it, I couldn't un-see it. Do you know what I mean/ And then I re-fell in love with a NEW shower curtain so I took the old one down. But I still liked the pattern so I hung onto it for later (life of an upcycle addict, am I right?!)
And then one day, I realized that I was kinda tired of my living room pillows AND I loved the shower curtain fabric AND it already had buttonholes in it at the top where you hang the curtain so that would make creating a buttoned DIY pillow cover about a thousand times easier. And I'm happy to report, it worked out just as well as I thought it would! Hooray! Here's how I did it !
10 Minute DIY Pillow Cover with Buttons
Fabric shower curtain with buttonholes along the top edge
18″ pillow form (you can use a different size, you'll just need to figure out all the measurements yourself)
Buttons (be sure to measure the size of your buttonholes!)
Sewing machine and matching thread
First lay out your shower curtain. I had 18″ square pillows and I was making a DIY pillow cover that was essentially an envelope back but with buttons. So I measured a rectangle that was 40″ by 18″. Make sure the 18″ length is along the top of the shower curtain where the buttonholes are. Position the rectangle so the buttonholes are where you will want them to appear on the pillow (i.e. center them across the 18″ width of the pillow cover. 2. Fold over 1/2″ and hem the 18″ edge OPPOSITE the buttonhole edge. 3. To sew the pillow together (see, told you this was fast!) lay the rectangle face up. Using a ruler, fold the buttonhole edge over by 9″. This will put the buttonholes across the center of the pillow. Pin in place. 4. Now, measure over from that folded edge by 18″ and mark. Then fold the other end over along that line so the end result is an 18″ square. (In the picture below, the clear ruler is measuring over 18″ from the folded edge, the metal ruler is marking where to fold the fabric over towards the middle.) Pin in place. 5. Now, sew a 1/2″ hem along the two open edges of the pillow cover. I often go back and forth a couple times at the point where the envelope sides overlap to make the pillow cover stronger (so it won't rip when you're stuffing the pillow form in). 6. Turn the pillow cover right side out and stuff the form in. Then, mark through the buttonholes where the buttons should attach to the other envelope flap underneath. You should do this with the pillow form in because it will change the shape of the pillow cover. Then, pull the pillow form out and sew the buttons on securely to the underneath flap.
7. Put the pillow form back in your DIY pillow cover and button it up! And that's it! Wasn't that super fast?!
If you liked this, you may also like some of my other posts…
Save
Save
Save
Save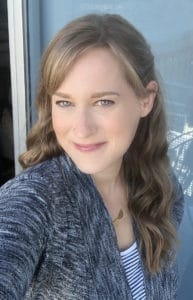 Welcome to Little Red Window! I'm Cassie and I'm a former architect with degrees in architecture, preservation, art and art history who's never met a craft or knitting project I didn't like!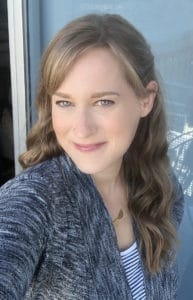 Latest posts by Cassie May (see all)