This year for Christmas, I only managed a couple of handmade gifts. One of them was a DIY Hanging Business Door Sign for my brother's girlfriend, T. She is a licensed midwife in Madison, WI and after finishing all of her (extensive) training and licensing she opened her own practice, Access Midwifery. She specializes in home births and has really been doing an amazing job as a new business owner. She has lots of happy clients and we are really proud of her.
For Christmas she asked me to make her a new sign for her front door. She does some of her prenatal visits from an office in their home and had been using a piece of paper taped to the window to let clients know they could come in without knocking. Obviously she needed something a little more professional.
I took a trip to Michaels and wandered the aisles for a while (I was alone! It was heaven!). At first I thought the easiest thing to do would be to use a picture frame. But she had told me that when she is not expecting clients she usually turns the sign around backwards. And I didn't think the back of a picture frame would look very nice.
So eventually I ended up choosing a plain solid wood plaque and a laser cut wood frame. A quick trip to Home Depot for a couple small eye hooks and I was set!
First I painted the plaque white on all sides. Then I painted the laser cut frame white only on the front face. I like the look of the dark raw wood on the laser cut edges. Finally, I gave everything a quick coat of polyeurethane and I was ready to assemble.
The sign itself, is one of my hand-drawn prints that I turned into a chalkboard print. I glued it to the back of the laser cut frame and used a piece of a plastic binder page protector in front to keep any moisture away from the print. She was planning to hang this on the inside of the door so it shouldn't get wet but I figured it was better safe than sorry.
I glued the frame to the plaque, weighted it down with some heavy books until it dried, screwed in two eye hooks along the top edge and added some yarn for hanging!
And there you have it! A much more professional looking Hanging Door Sign for my favorite midwife! She says clients have been giving her lots of compliments already which is great to hear!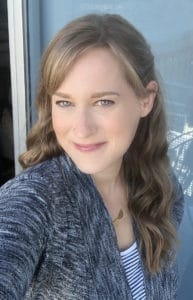 Latest posts by Cassie May
(see all)